There are many ways to help Granada High School. Please take a moment to check these options…….
---
Option 1. Simple and Easy: Use
Buy the same products at the exact same low prices and Amazon will donate a portion of the sale to Granada Supporter Club.
Go to smile.amazon.com
Log in using your normal amazon account info.
On your first visit to smile.amazon.com, you'll need to select "Granada Supporters Club" by using the search bar on the page shown here.
From then on, just bookmark smile.amazon.com and go about your everyday shopping on Amazon!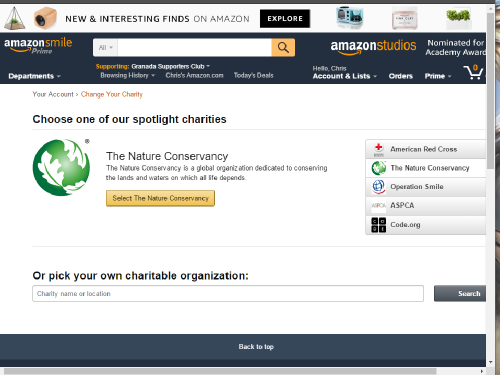 &nbsp
---
&nbsp
Option 2. Volunteer for Granada Supporters BINGO!
The Granada Supporters Clubs hosts Bingo  every Saturday  and occasionally other nights at the Student Union.  Your time commitment can range from 3-4 hours on a Saturday (with training on the same night)  or up to 8 hours in certain roles such as Bingo Lead, Flash Lead, Caller, or Banker (all these positions require additional training for the role). We have some video training on YouTube and you could always visit one of the Saturday Bingo games (usually starting at 4pm until 9:30pm) and introduce yourself to one of the other volunteers.
We have sign-ups on signupgenius.com. Click on this icon to take you to our current sign-ups and scroll down to search for the blue "Sign-up" buttons for open slots.
click =>


&nbsp
---
&nbsp
Option 3. Join Granada Supporters:
Yearly memberships at $20 and a Lifetime membership is $100. Purchase your choice below using  any credit card through PayPal.